We have a restaurant here in Boise called
Donnie Macs
that features "Trailer Park Cuisine". We had an enjoyable "Friday Night Fun Night" a couple weeks ago. They have an old car hull in the middle of the restaurant with a table inside and we were lucky enough to get seated in the car. The kids loved it bouncing on the single wide seat w/o
car seats
or seat belts and hanging out the windows. By now you are wondering what my restaurant review has to do with Thyme in the Kitchen. Well, I thought I could add some low brow recipes to mix it up. Hopefully, I won't be banished from the blog but I suppose I might be chastised by Queen Dana. Sally Ryan gets credit for being my introduction to this
Epicurean
delight.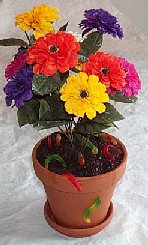 Flowerpot Cake (aka Dirt Cake)
Serves 10 to 12
1 medium-size flower pot (about 8 inches in diameter works well, or use two small pots about 6 inches in diameter)
1 garden trowel
3 large gummy or plastic worms
plastic flowers
1 16-ounce bag Oreo cookies
1/2 cup (1 stick) butter or margarine, softened
1 8-ounce package cream cheese, softened
1 cup confectioners' sugar
1 teaspoon vanilla
2 4-serving-size boxes instant chocolate-fudge flavor pudding
3 cups milk1 12-ounce tub whipped topping, thawed
Crush cookies until they resemble potting soil, set aside. Cream butter, cream cheese, sugar and vanilla until smooth and fluffy. Set aside. Combine pudding mix and milk until well blended, then fold in the whipped topping. Gently fold cream cheese and pudding mixtures together.
To put the cake together, layer 1/3 of the cookie crumbs followed by 1/2 the pudding mixture, 1/3/ of the crumbs, the rest of the pudding mixture and topping with the remaining cookie crumbs. Refrigerate 10 to 12 hours. About 1/2 hour before serving, remove from refrigerator and decorate with flowers. Serve by digging out portions with the trowel.
I have a couple more up my sleeve so stay tuned.